Welcome to day 9 of the 2nd annual Christmas A Go-Go Giveaway from Laughing Vixen Lounge. Make sure to stop by the main
Giveaway Post
and enter to win a $250+ Prize Pack full of Fa-La-La-Luscious treats from 12 of the most fabulous shops around. Each day you will find daily holiday trivia that can earn you lots of extra entries (see details below). There will also be shop features for all of our participating shops. They will be reminiscing about their favorite holiday movies and giving us a peek at how they do what they do.
A big part of the Christmas Giveaway are the holiday recipes. What better way to enjoy the holiday season than with some old favorites and a few new desserts and dishes. Our shops are sharing their favorites and we invite you to do the same. You can submit your own recipe to earn 10 extra entries and have it posted on the blog for everyone to enjoy. See details below.
Every Friday at the Laughing Vixen Lounge Blog is Fear Friday. Fear Fridays are a celebration of all films spooky. During December they will all have a Christmas theme. A special treat for any spooky movie fan and just maybe a chance for some more extra entries.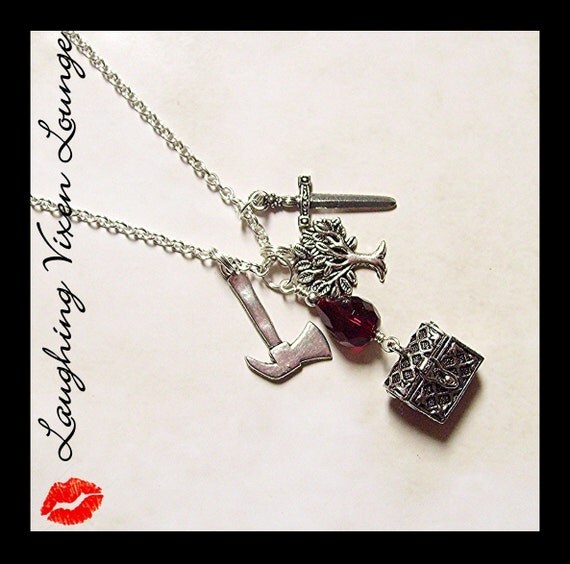 Purchase any item(s) from
Laughing Vixen Lounge
through December 31st and get 10% off your order. Use code DECEMBER10 at checkout.
Test your knowledge and earn an extra entry each day. Each daily post will have a holiday trivia question. Leave your answer on the Rafflecopter widget, on the main
Giveaway Post
, for 1 entry in the giveaway. Please do not post answers anywhere else on the blog or they will be deleted and not count.
**You can only post 1 answer per 24 hour period. Rafflecopter runs on Eastern Standard Time. So if you miss a day you can not make it up.**
Today's Trivia Question ~ In the 1947 holiday classic, Miracle on 34th Street, which 2 big department stores are featured as rivals in the movie? One is still in operation today and one went out of business in 1987.
Yesterday's Question ~ What three gifts did the Wise Men bring?
Answer ~ Gold, Frankincense and Myrrh.
Featured Shop - Vegan Sudz Shop
Vegan Sudz Shop
are run by Nikole from the Allentown, MI. Her shop is full of fun and crazy soaps for all ages.

How did you choose your shop name?
"I was a vegan for over 10 years when I decided to open my shop, so that part was easy. As for the "Sudz" part, well that was just being lazy because I'm selling soap."

Why did you choose to make/sell what you do?
"I was so tired of spending big loot on expensive soaps and lotions at stores, and still not being 100% sure that the ingredients in them weren't coming from the inside of some poor animal or that they were even decent enough to actually put on my skin, so I figured out how to make them myself. And after forcing them on my friends and family and seeing that they actually used them, loved to use them on their kids and even asked for more... well that started me down the path of branching out and forcing them on people I don't know for money :)"



What inspires the designs/creations you make?
" Other than my quest for happy veganism worldwide and the understanding that natural just equals better, I've always loved cute, creepy, weird, obnoxious and just plain odd things. And since a lot of my soaps are geared towards kids having fun at bath time, I just assume they all want something creepy and weird just like I did!"



What new designs/creations would you like to add to your shop in the future?
"I have SLS Free Shampoos and Conditioners and all natural deodorant that I've been meaning to cram in everyone's face forever now, but I want to make sure everything is perfect and groovy before launching them, plus, I'm too lazy to take the pictures to post them on Etsy."



A little peek at where the magic happens.
You'll have a chance to win your choice of item from 6 different products from Vegan Sudz Shop. Enter now on the main
Giveaway Post
.
Visit
Vegan Sudz Shop
and use coupon code PINKCUCKOO10 at checkout for 10% off your order.
Since it's Christmas, I asked the shops to share their favorite holiday movie.
"Gotta love Elf, just because Will Ferrell makes me practically pee myself!"
For a little holiday fun, I asked the shops to share with us some of their favorite recipes and craft how to's.
Dijon Mustard Brussels Sprouts
1 lb (approx 24 brussels sprouts)
2 tsp mustard seeds
2 tblspns vegan margarine or oil
1/2 cup shallots, chopped
1 tsp Dijon Mustard (i use a ton more!)
1/4 tsp salt
1/4 tsp pepper
~ steam sprouts until soft
~ meanwhile, dry toast seeds on high heat until they start to "pop"
~ lower heat and add shallots, margarine, mustard
~ add sprouts, salt, pepper & toss until well coated
Earn 10 Extra Entries ~ Submit Your Holiday Recipe.
Submit your own holiday recipe or craft how-to for an extra 10 entries in the giveaway. You will find the entry, with full details on how to submit the recipe, on the Rafflecopter widget on the main
Giveaway Post
. We will post submitted recipes daily.