Welcome to day 2 of the 2nd annual Christmas A Go-Go Giveaway from Laughing Vixen Lounge. Make sure to stop by the main
Giveaway Post
and enter to win a $250+ Prize Pack full of Fa-La-La-Luscious treats from 12 of the most fabulous shops around. Each day you will find daily holiday trivia that can earn you lots of extra entries (see details below). There will also be shop features for all of our participating shops. They will be reminiscing about their favorite holiday movies and giving us a peek at how they do what they do.
A big part of the Christmas Giveaway are the holiday recipes. What better way to enjoy the holiday season than with some old favorites and a few new desserts and dishes. Our shops are sharing their favorites and we invite you to do the same. You can submit your own recipe to earn 10 extra entries and have it posted on the blog for everyone to enjoy. See details below.
Every Friday at the Laughing Vixen Lounge Blog is Fear Friday. Fear Fridays are a celebration of all films spooky. During December they will all have a Christmas theme. A special treat for any spooky movie fan and just maybe a chance for some more extra entries.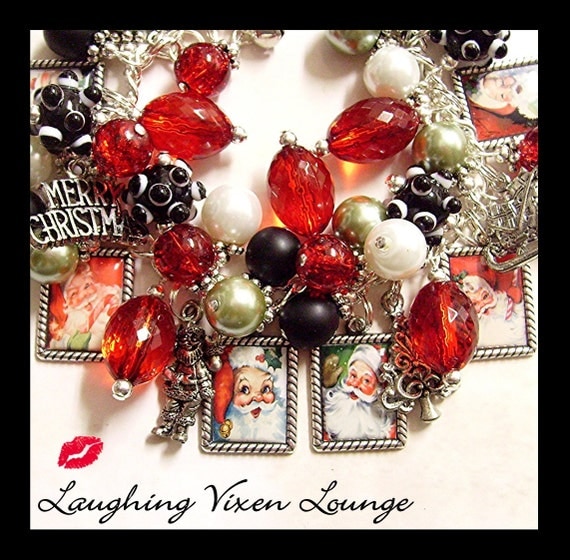 Holiday Trivia Game
Test your knowledge and earn an extra entry each day. Each daily post will have a holiday trivia question. Leave your answer on the Rafflecopter widget, on the main
Giveaway Post
, for 1 entry in the giveaway. Please do not post answers anywhere else on the blog or they will be deleted and not count.
**You can only post 1 answer per 24 hour period. Rafflecopter runs on Eastern Standard Time. So if you miss a day you can not make it up.**
Today's Trivia Question ~ In the original 1960's animated version of How The Grinch Stole Christmas, which classic actor was the voice for the Grinch?
Featured Shop - Custom Sentiments
Custom Sentiments
is run by Joni from Saint Cloud, Minnesota. Her shop is filled with thousands of designs ready to be put on tons of goodies.

How did you choose your shop name?
"My kids definitely inspired me to go the custom and personalized route- always asking for their name on this or that, so I "custom" had to somehow be in my company name since it represented what I did at the time, (custom designs). I chose "sentiments" since I started out doing wall quotes and I had always called them "wall sentiments". I guess the two words together just made the perfect pair."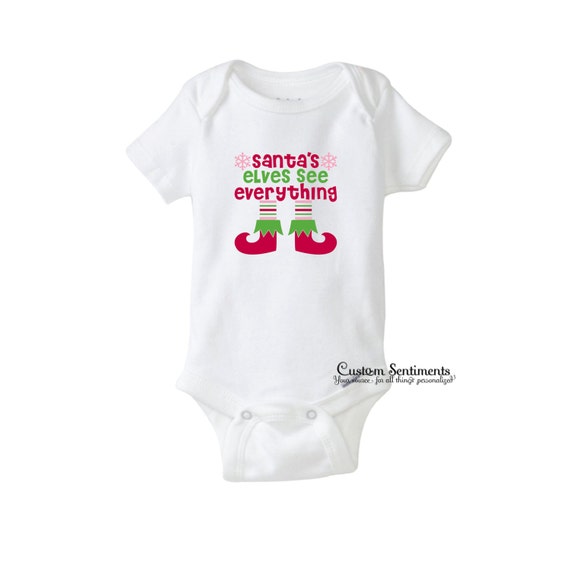 Why did you choose to make/sell what you do?
"I have 3 kids- all girls and they love all things girly, pink and monogrammed! They were always asking me to personalize this and that for them- water bottles, lunch boxes, backpacks and of course their lockers at school were the coolest on the "block". It was hard to find personalized childrens items then and once I started personalizing things, it got addicting. Now EVERYTHING in my shop or on my website (thousands of items) are all personalized items so anyone can find the perfect personalized gift for anyone on their list- guys, girls, young or young at heart."
What inspires the designs/creations you make?
"I would have to say my 3 beautiful girls and all that surrounds me. My oldest daughter and I do "walking photography", where we pick a spot, (near or far away) and just walk and take pictures of anything that catches our eye. I then use those photographs to create pallets of color and let the colors and shapes guide me with my designs."
What new designs/creations would you like to add to your shop in the future?
"I currently have hundreds of designs that are not yet on my websites or in my shop. I am adding new designs and products all the time. Every single week there is something new. I'm still in the process of merging all of my old sites into one big one and doing both wholesale and retail, it is taking some time. Check back often, as there will always be new finds to catch your eye!"
"I would have to say my 3 beautiful girls and all that surrounds me. My oldest daughter and I do "walking photography", where we pick a spot, (near or far away) and just walk and take pictures of anything that catches our eye. I then use those photographs to create pallets of color and let the colors and shapes guide me with my designs." - See more at: http://laughingvixenlounge.blogspot.com/2013/12/day-2-of-christmas-go-go-giveaway.html#sthash.SvYEmZrk.dpuf
Visit Custom Sentiments on the
Web
and use coupon code STNICK10 at checkout for 10% off entire Personalized Engraved & Embroidered Gifts Collection, Custom Designed Product Line. Use coupon code STNICK20 at checkout for 20% off Stick Figures and Wall Quotes. Visit custom Sentiments on
Etsy
and use code STNICK at checkout to save 10% off all items
Since it's Christmas, I asked the shops to share their favorite holiday movie.
"Polar Express. Why? When my middle child was just 6 she asked me if Santa was real because of her cousin saying something to her. My heart sunk and I knew I had to do something so close to Christmas because her little heart was breaking just asking me that. I scoured the internet for some fun ideas originally thinking of something simple like a letter from the North Pole and instead I came across a Polar Express Railroad Ride. I read about ir a mere 5 minutes and booked it without thinking twice. It was such a fun experience for her and to watch her eyes light up, while she sat there in her I believe in Santa pj's and clutching the little bell they give her when she entered the train. The whole 3 hour ordeal was enough for the next 4 years. It was such a fun experience that neither of us will ever forget and we watch the movie practically on repeat during this time of year every year and it has become our family favorite."
For a little holiday fun, I asked the shops to share with us some of their favorite recipes and craft how to's.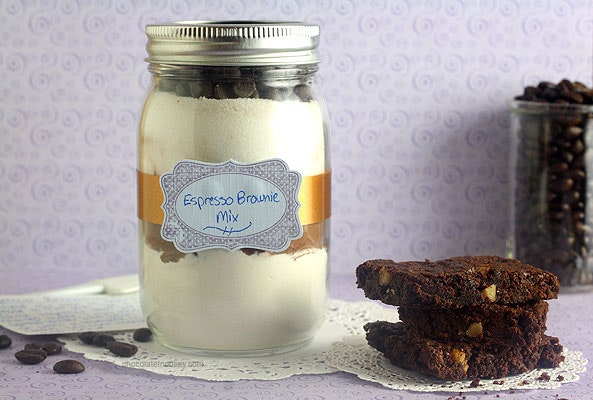 Espresso Brownie in a Jar
"Fill the jars with and decorate with your favorite tags, fabrics or whatever you like and give as fun, yummy gifts! Just don't forget to include the recipe instructions!"
Ingredients:
Brownie Mix
1-quart jar
1 1/4 cups flour
1/2 tsp baking powder
1/4 tsp salt
3/4 cup Dutch-process cocoa powder
2 tsp espresso powder
1/2 cup chopped walnuts
1 1/2 cups sugar
6 ounces dark chocolate, chopped (or chocolate chips)
To make the brownies
12 Tbsp unsalted butter, melted
2 eggs
2 tsp vanilla extract
Instructions
In a medium bowl, sift together the flour, baking powder, and salt. Pour into the jar.
In a small bowl, whisk together the cocoa and espresso powder. Pour into the jar on top of the flour mixture.
Add the walnuts into the jar followed by the sugar then followed by the chocolate. Seal and decorate as desired.
To make the brownies: Preheat the oven to 350F. Lightly grease 13×9 inch pan. Set aside.
In a large bowl, whisk together the jarred contents, butter, eggs, and vanilla. The batter will be thick. Spread the batter evenly into the pan. Bake 20-25 minutes or until a toothpick inserted into the center comes out clean. Let cool completely before cutting into squares and serving.
Earn 10 Extra Entries ~ Submit Your Holiday Recipe.
Submit your own holiday recipe or craft how-to for an extra 10 entries in the giveaway. You will find the entry, with full details on how to submit the recipe, on the Rafflecopter widget on the main
Giveaway Post
. We will post submitted recipes daily.