Welcome to day 12 of the 2nd annual Christmas A Go-Go Giveaway from Laughing Vixen Lounge. Make sure to stop by the main
Giveaway Post
and enter to win a $250+ Prize Pack full of Fa-La-La-Luscious treats from 12 of the most fabulous shops around. Each day you will find daily holiday trivia that can earn you lots of extra entries (see details below). There will also be shop features for all of our participating shops. They will be reminiscing about their favorite holiday movies and giving us a peek at how they do what they do.
A big part of the Christmas Giveaway are the holiday recipes. What better way to enjoy the holiday season than with some old favorites and a few new desserts and dishes. Our shops are sharing their favorites and we invite you to do the same. You can submit your own recipe to earn 10 extra entries and have it posted on the blog for everyone to enjoy. See details below.
Every Friday at the Laughing Vixen Lounge Blog is Fear Friday. Fear Fridays are a celebration of all films spooky. During December they will all have a Christmas theme. A special treat for any spooky movie fan and just maybe a chance for some more extra entries.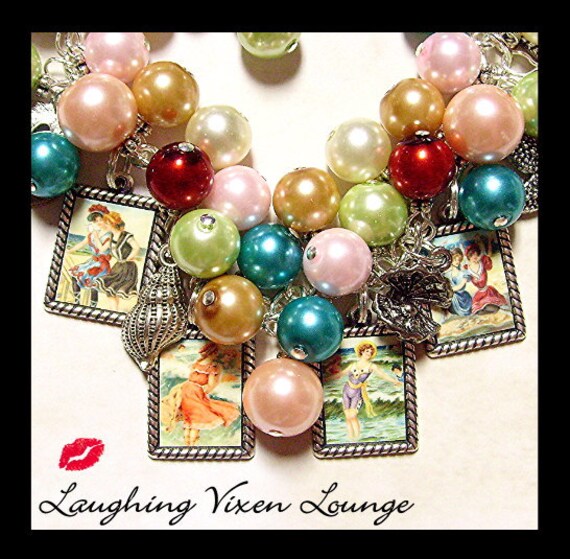 Purchase any item(s) from
Laughing Vixen Lounge
through December 31st and get 10% off your order. Use code DECEMBER10 at checkout.
Test your knowledge and earn an extra entry each day. Each daily post will have a holiday trivia question. Leave your answer on the Rafflecopter widget, on the main
Giveaway Post
, for 1 entry in the giveaway. Please do not post answers anywhere else on the blog or they will be deleted and not count.
**You can only post 1 answer per 24 hour period. Rafflecopter runs on Eastern Standard Time. So if you miss a day you can not make it up.**
Today's Trivia Question ~ One traditional Christmas song goes "Here we come a-wassailing". What is wassailing?
Yesterday's Question ~ In the 1964 animated classic, Rudolph the Red Nosed Reindeer, what job does the Bumble (The Abominable Snow Monster of the North) get at the end of the story?

Answer ~ He puts the star on top of the Christmas trees.
Featured Shop - Painting My Roses Red
PaintingMyRosesRed
is run by Sarah Smith from Northampton, England. Her shop has lots of vintage, upcycled and re-loved crafts.

How did you choose your shop name?
"Since I decided to re-vamp my shop and my sister offered to join me and make a few items too, we wanted a name we both liked and that had meaning for us. My sister is a big Alice in Wonderland fan and I like the story too, we ended up with Painting My Roses Red as it's also a link to my mom who loved roses so it just seemed to fit."
Why did you choose to make/sell what you do?
"I'm still not sure if its a good or bad thing that I like so many crafts. I'm always trying new things and have a lot of craft equipment. I like to be able to offer variety of things and I'm always making gifts which when I can I will make something specific to the person's taste. My own interests always encroach on what I sell (I started making Downton Abbey themed items when they released the fabrics recently, after buying the fabrics to make myself something). I try to make items that are unique and interesting."

What inspires the designs/creations you make?
"I am often inspired by materials I have, I enjoy playing with new ideas - they don't always work, but I like to see what I can create. For example I went through a phase making a lot of jewellery, but there are so many talented crafters out there that selling jewellery is hard, you need to find something a little different. I moved to upcycling and reusing old jewellery and buttons, I then learnt to crochet and decided to combine the two."

"I also find inspiration from other crafters, items you buy in the shops and vintage designs. Just flicking through a vintage pattern book or pinterest you can see so many ideas and add a little twist to make them your own."

What new designs/creations would you like to add to your shop in the future?
I hope to add more crochet items, I'm still learning but hope to be able to do more, it's just a case of trial and error! I am just getting round to working on an idea I had probably a year ago! I need to make a lot of crochet flowers and source more vintage buttons/jewellery items so it's a work in progress. I am also hoping to add more fabric items. My sister and I plan to purchase a better sewing machine when we can, whilst my moms one does the basic stitch after attending a sewing class with modern machines it will be so much easier and open up more options as to what we can make. I would like to add more Downton Abbey themed items, such as the cushion cover I made for myself recently, it's all a case of juggling craft time!
You'll have a chance to win a Downton Abbey Fabric Flower Hair Clip, Crochet Owl Ornament and Purple Glass Pearl Bracelet from
PaintingMyRosesRed
. Enter now on the main
Giveaway Post
.
Purple Glass Pearl Bracelet
Visit
Painting My Roses Red
on Etsy.
Since it's Christmas, I asked the shops to share their favorite holiday movie.
"I love the different bbc tv series they used to show on Sunday tea times, one of my favourites was The Chronicles of Narnia and every year I watch The Lion, The Witch & The Wardrobe. It starts off with a real wintery feeling, your always amazed by the amount of snow they have. I love the fantasy of it all, the different characters and the real wicked 'Queen of Narnia'. The series stayed very close to the book, the language and how the children speak to each other 'you pack of self satisfied stuck-up prigs!' (harsh words!) Sounds so out of place now, but makes you feel it was another era. It also reminds of Sunday tea time where we would have the fire going, eating jam and crumpets and watching the latest episode on a dark winter night. They don't have Sunday tea time shows like this now."
For a little holiday fun, I asked the shops to share with us some of their favorite recipes and craft how to's.
"This recipe is from a diabetic cookbook, we switched to making these when my dad was diagnosed with diabetes, so this has reduced sugar, but still really good."
Dried Apricots (ready to eat) chopped into small pieces

4oz/100g
Glace cherries, quartered

1oz/25g
Chopped mixed nuts

2oz/50g
Fresh Breadcrumbs

3oz/75g
Suet or Vegetarian Suet

2oz/50g
Ground Mixed Spice

1 teaspoon/5ml
Ground Cinnamon

1/2 teaspoon/2.5ml
Butter/Margarine for greasing the pudding bowl
Depending on your own taste, you could remove nuts and cherries if you wish. This recipe can be used to make one Christmas Pudding or several mini Christmas puds. I am basing the recipe on making one.
Bowl for mixing
Pudding bowl (suitable for using in a steamer)
Wooden spoon for mixing
Greaseproof Paper (Baking Parchment)
Grease and base line (greaseproof paper) of the pudding bowl. In a bowl put the apricots, sultanas and raisins, soak them in the brandy overnight.
Add the cherries and nuts, mix. In a separate bowl add the breadcrumbs, ground mixed spice, cinnamon, lemon rind and suet, mix. Stir the dry mixture into the fruit. Add the beaten eggs, stir well to mix thoroughly.
Pour the mixture into the pudding bowl. Cover the top of the mixture with grease proof paper, then add a cover of foil. Hold the foil in place with string (we always tie the string so that it has a 'handle' which enables you to carefully lift the pudding in out of the steamer.
Steam the pudding in a steamer over a pan of gently simmering water for 2 hours. It's a good idea to set the timer to remind you to check there's enough water in the steamer.
Once steamed, lift the pudding out and let it cool down. Once cool cover the pudding with fresh greaseproof paper and foil. This pudding can be stored in a dark cupboard (this allows the flavours to soak into the fruit.) I usually make it late-end November ready for eating on Christmas Day.
To reheat, steam for a further 2 hours.
Eat with:
Brandy Cream, Brandy Butter, Cream or Ice Cream
If making the mini puddings, dependent upon pudding bowl size you could make up to eight puddings.
The History of the Christmas Pudding
I just thought, before the recipe I'd give you a bit of background to the Christmas Pudding - something you might not of had before!
Christmas (or Plum) Pudding is the traditional end to the British Christmas dinner. What is now the Christmas Pudding, is not what it was originally like!
Christmas pudding was originally called 'frumenty', a 14th century style porridge that was made of beef and mutton with raisins, currants, prunes, wines and spices. It was often more like soup and eaten as a fasting meal in preparation for Christmas festivities.
By the late 1500s, frumenty was slowly changing into a plum pudding. It was thickened with eggs, breadcrumbs, dried fruit and given more flavour by adding beer and spirits. It became a Christmas dessert around 1650, however it was some a few years banned by Puritans who saw it as a bad custom to have.
In 1714, King George I re-established it as part of the Christmas meal. By the Victorian era Christmas Puddings had changed into something similar to the ones that are eaten today.
There are many superstitions about the Christmas Pudding, including the pudding should be made with 13 ingredients to represent Jesus and His Disciples, that every member of the family should take turns to stir the pudding with a wooden spoon from east to west, in honour of the Wise Men. In our family we stir the pudding and 'make a wish', I don't where this superstition fits in!
Christmas Puddings also have a link to Easter. The decorative sprig of holly on the top of the pudding is a reminder of Jesus' Crown of Thorns. Brandy or another alcoholic drink is often poured over the pudding and lit at the table to make a spectacular display.
Another tradition is putting a silver coin in the pudding it's said to bring luck to the person that finds it (although today most would put more than one coin in so everyone gets one!) The tradition seems to date back to the Twelfth Night Cake which was eaten during the festivities on the 'Twelfth Night' of Christmas (the official end of the Christmas celebrations). Originally a dried pea or bean was baked in the cake and whoever got it, was 'king or queen' for the night. There are records of this practice going back to the court of Edward II (early 1300s). The bean was also sometimes a silver ring of small crown. The first coins used were a Silver Farthing or penny. After WW1 it became a threepenny bit and then a sixpence.
Other items, called 'tokens' or 'favours' were sometimes placed in the Christmas Pudding which also had special meanings:
Bachelor's Button: If a single man found it, they would be a bachelor for the next year

Spinster's/Old Maid's Thimble: If a single woman found it, they would be a spinster for the next year

A Ring: If a single person found this, it meant you will get married in the next year! It could also mean you will be rich for the next year
A Christmas Carol By Charles Dickens
'Hallo! A great deal of steam! The pudding was out of the copper. A smell like a washing-day! That was the cloth. A smell like an eating-house and a pastrycook's next door to each other, with a laundress's next door to that! That was the pudding. In half a minute Mrs Cratchit entered: flushed, but smiling proudly: with the pudding, like a speckled cannon-ball, so hard and firm, blazing in half of half-a-quartern of ignited brandy, and bedight with Christmas holly stuck into the top.'
Earn 10 Extra Entries ~ Submit Your Holiday Recipe.
Submit your own holiday recipe or craft how-to for an extra 10 entries in the giveaway. You will find the entry, with full details on how to submit the recipe, on the Rafflecopter widget on the main
Giveaway Post
. We will post submitted recipes daily.