Welcome to day 13 of the 2nd annual Christmas A Go-Go Giveaway from Laughing Vixen Lounge. Make sure to stop by the main
Giveaway Post
and enter to win a $250+ Prize Pack full of Fa-La-La-Luscious treats from 12 of the most fabulous shops around. Each day you will find daily holiday trivia that can earn you lots of extra entries (see details below). There will also be shop features for all of our participating shops. They will be reminiscing about their favorite holiday movies and giving us a peek at how they do what they do.
A big part of the Christmas Giveaway are the holiday recipes. What better way to enjoy the holiday season than with some old favorites and a few new desserts and dishes. Our shops are sharing their favorites and we invite you to do the same. You can submit your own recipe to earn 10 extra entries and have it posted on the blog for everyone to enjoy. See details below.
Every Friday at the Laughing Vixen Lounge Blog is Fear Friday. Fear Fridays are a celebration of all films spooky. During December they will all have a Christmas theme. A special treat for any spooky movie fan and just maybe a chance for some more extra entries.
Purchase any item(s) from
Laughing Vixen Lounge
through December 31st and get 10% off your order. Use code DECEMBER10 at checkout.
Holiday Trivia Game
Test your knowledge and earn an extra entry each day. Each daily post will have a holiday trivia question. Leave your answer on the Rafflecopter widget, on the main
Giveaway Post
, for 1 entry in the giveaway. Please do not post answers anywhere else on the blog or they will be deleted and not count.
**You can only post 1 answer per 24 hour period. Rafflecopter runs on Eastern Standard Time. So if you miss a day you can not make it up.**
Today's Trivia Question ~ What makes Santa's reindeer fly?
Yesterday's Question ~ One traditional Christmas song goes "Here we come a-wassailing". What is wassailing?

Answer ~ Wassail is an ale-based drink seasoned with spices and honey. It is served from large bowls and passed around with the greeting "Wassail". "Wassailing" was to pass the bowl around the room or to visit houses, greeting people with Wassail and cheer. Wassail translates to "be well".
Featured Shop -
Apocalypso
Apocalypso
is run by Faith from Crazyville, NJ. Her shop is filled with designs inspired by Day of the Dead, Vintage and Retro.
How did you choose your shop name?
"I wanted something fun, retro, day of the dead-esque and sassy. I brainstormed with friends and my author friend Natasha Boyd came up with the store name."
Why did you choose to make/sell what you do?
"I have a degree in jewelry design and when I need a good creative outlet I go back to making jewelry. After I had my son, I decided to take a break from working full time but needed a creative outlet and started making jewelry that I would want to wear."

What inspires the designs/creations you make?
"Color, Folk art, vintage and retro icons all go into my designs. I love things that are just a little over the top."
What new designs/creations would you like to add to your shop in the future?
"I'd like to add more men's items."
You'll have a chance to win your choice of small Day of the Dead earrings from
Apocalypso
. Enter now on the main
Giveaway Post
.
The magic maker, Miss Faith herself.
Visit
Apocalypso
on Etsy.
For a little holiday fun, I asked the shops to share with us some of their favorite recipes and craft how to's.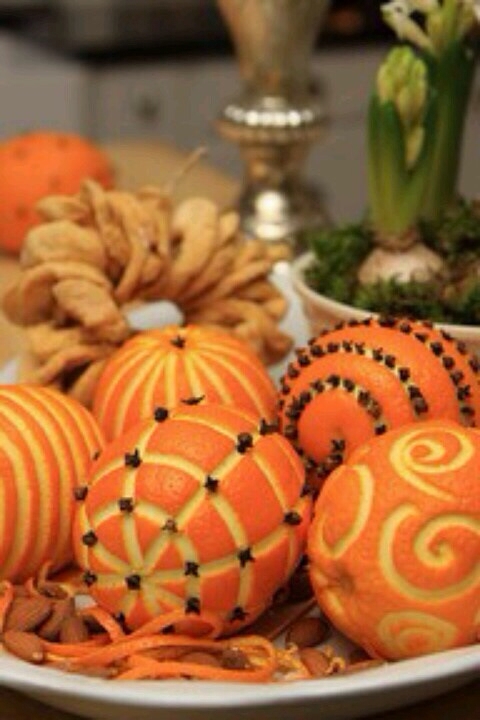 Orange and Clove Pomanders
"When we were kids and it got close to Christmas, my mother would call us to the table and she'd have put out a bowl of oranges, and two spice containers of whole cloves and whatever left over fancy ribbon she had left over. You take the cloves and push them though the oranges skin. You can put them in designs or use a zester to cut designs into the peel. Don't go too deep or the orange will dry up too fast. After you've covered your orange with the cloves (try using a thimble since your finger tips hurt after you push a lot of cloves through) take a ribbon and tie it around a add a loop so you can hang them. There is no smell as amazing as when you make these. They make lovely hostess gifts and they are wonderful to decorate around the house with because they're so fragrant. They last a good amount of time before you have to throw them out too!! The smell brings me right back to my childhood and happy family time. It's a great thing to do with your kids as the memory is a strong one."
Earn 10 Extra Entries ~ Submit Your Holiday Recipe.
Submit your own holiday recipe or craft how-to for an extra 10 entries in the giveaway. You will find the entry, with full details on how to submit the recipe, on the Rafflecopter widget on the main
Giveaway Post
. We will post submitted recipes daily.
Fear Friday ~ The Christmas Edition Pt. 2
This month all our Fear Friday reviews will be for movies set at Christmas time. Tonight's film is a train wreck with a surprising amount of recognizable faces. Enjoy!
Every Friday at the Laughing Vixen Lounge Blog is Fear Friday. Fear Fridays are a celebration of all films spooky. Horror is a very broad genre and the Lounge loves it all. Each Friday you will find a review of a different film. These can range from Classic Horror (black and white and cheesy), Thrillers (suspense, jumps and a good mystery), outright Horror (chop chop, slash slash, die die) and anything else in between.
So pop some popcorn, kill the lights and enjoy tonight's selection. And please, share your comments on the film. Bad or good let me know what you thought of it. And now, my little ghouls and dolls, the Laughing Vixen Lounge Blog is proud to present this week's film.
Just a quick nod to the classic on it's special day. Happy Friday the 13th. Now go spread the love.
Fear Friday - Santa's Slay
Tagline - Spreading Holiday Fear This Christmas.
Directed by David Steimen and releaded on October 25, 2005 by Media 8 Entertainment (Rated R). Santa turns out to really be the son of Satan (get it, switch the letters around) who has lost a bet with an Angel and is forced to be a holly jolly gift giver for the next 1,000 years. Uh oh!!! Looks like the 1,000 years is up and Santa is tired of being nice!
I wanted to watch something I had not seen before and this is the gem I chose. While there is some blood and violence this movie is mainly cheese! It's a humorous take on Santa and Christmas. Santa is a big creepy looking guy who goes around killing everyone in the little town of Hell. Of course not all the residents are ready to go so easily.
If you like comedy, silly comedy, with your horror this it a fun watch. Just don't expect anything great from it! It is what it is... silly. But I was completely amazed at how many recognizable faces are in it. If you watch lots of TV you should recognize most of the cast.
Sorry, no trivia listed for this one.